See on Scoop.it – International Baccalaureate Program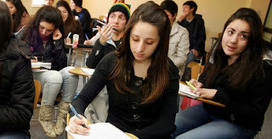 Maintaining Classroom Discipline No matter how much you know about what you teach, managing the classroom has to be effective to produce a learning environment that results in learning. As a teacher of English as a Foreign Language, that means you have to do three things very well:
1. You know how to read, write, speak and understand English at a high level.
2. You understand how children learn (pedagogy).
3. You are able to manage the classroom so that learning can occur.
In the video below, there are problems. We meet the class clown, the "show-off". Every class has one, in varying degrees. What's important is the behavioural management solutions you choose to use. It is not easy, and there are no tried and tested methods that work for all students.
See on englishclass2000.blogspot.fr