See on Scoop.it – Authorship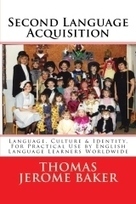 EdCamp Santiago's insight:
"Written for new teachers, experienced teachers, parents of English Language Learners worldwide, and students from all disciplines with a need to know how students learn English in actual day to day practice. This book provides an actionable answer to the question of "How Do Students Learn English?" through the discovery method applied to case studies and actual experience, in reality.
If encountering the topic for the first time, this is a clear and practical introduction to experiential Second Language Acquisition (SLA). It shows actual students and teachers grappling with SLA issues in an interdisciplinary manner. To do this, we "stand on the shoulders of giants" like Wittgenstein, Gass & Selinker.
See on www.createspace.com