When was the last time you got a loveletter? When was the last time you wrote a love letter? Now that writing love letters is a lost art, what better gift can you give the one you love than an old-fashioned, authentic, hand written, love letter!
The purpose of this book is twofold. One, it shares some of the most romantic love letters ever written. They act as a model to help you express your love in a profound and personal way that your partner will treasure for the rest of their life.
But first, what is love?
In the year 2012, that phrase – what is love -, was the most researched phrase on Google. Five writers from diverse backgrounds tried to define what love is. The five people were a physicist, a psychotherapist, a philosopher, a romantic novelist, and a nun.
The answers they gave were eloquent, convincing, and yes, diverse. The nun said that love is a paradox. "Love is free yet binds us." The romantic novelist said that love is everything. The philosopher said that love is a passionate commitment. The psychotherapist identified six different types of love and said that it is unlikely to experience all six types with only one person. And the physicist? He said that "love is chemistry."
So, what is love?
In this book, I have tried to show love that is as diverse as the five authors above have defined it. I also try to show love that meets the precise definition that Paul gives in his first letter to the Corinthians, below:
"Love is patient, love is kind. It does not envy, it does not boast, it is not proud. It does not dishonor others, it is not self-seeking, it is not easily angered, it keeps no record of wrongs. Love does not delight in evil but rejoices with the truth. It always protects, always trusts, always hopes, always perseveres. Love never fails." ~ The First Letter of Paul To The Corinthians 13:4-8
The book promotes the appreciation, and the writing, of love letters.
The book encourages and helps people to write love letters.
(self-help/non-fiction)
What is love?
In 1845, the poet Robert Browning, in his first letter to the poet Elizabeth Barrett, wrote:
"I love your verses" with all my heart… and I love you too." 
Robert, at that time, had never met,

never even seen

Elizabeth. It was enough for him to read her poetry to fall in love with her…truly…deeply…passionately.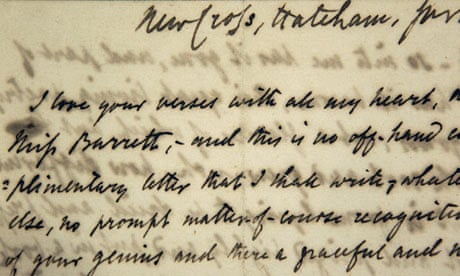 January 10th, 1845

New Cross, Hatcham, Surrey


I love your verses with all my heart, dear Miss Barrett, and this is no off-hand complimentary letter that I shall write, whatever else, no prompt matter-of-course recognition of your genius and there a graceful and natural end of the thing: since the day last week when I first read your poems, I quite laugh to remember how I have been turning again in my mind what I should be able to tell you of their effect upon me…
The next day Elizabeth wrote back to him
:
"I thank you, dear Mr. Browning, from the the bottom of my heart. You meant to give me pleasure by your letter-and even if the object had not been answered, I ought still to thank you. But it is thoroughly answered…
And in the meantime I have learnt to know your voice, not merely from the poetry, but the kindness in it…
I will say that I am your debtor, not only for this cordial letter and all the pleasure which came with it, but in other ways, and those the highest; and I will say that while I live to follow this divine art of poetry, in proportion to my love for it and my devotion to it, I must be a devout admirer and student of your works. This is in my heart to say to you-and I say it.
     And, for the rest, I am proud to remain,
          Your obliged and faithful,
                Elizabeth B. Barrett"
18 months and almost 600 letters later, they were married…
On their honeymoon, one day Elizabeth sneaked up behind Robert, and pressed a document containing over 43 sonnets into his coat pocket and told him they expressed her love for him.
The poems were published in 1850 under the title, Sonnets From The Portuguese.
My favorite is Sonnet 43:
How do I love thee? Let me count the ways.
I love thee to the depth and breadth and height
My soul can reach, when feeling out of sight
For the ends of Being and ideal Grace.
I love thee to the level of everyday's
Most quiet need, by sun and candlelight.
I love thee freely, as men strive for Right;
I love thee purely, as they turn from Praise.
I love thee with the passion put to use
In my old griefs, and with my childhood's faith.
I love thee with a love I seemed to lose
With my lost saints,—I love thee with the breath,
Smiles, tears, of all my life!—and, if God choose,
I shall but love thee better after death.
***
Now, why did Robert publish the intimate, deeply personal, profoundly private, love poems that Elizabeth wrote to him? Didn't he respect her at all? Robert said:
"I dared not reserve to myself the finest sonnets written in any language since Shakespeare's."
Author: Elizabeth Barrett Browning (1806-1861).
2. The letters cited can be found on pages 1-4 in the free book below: